This Tuesday was an ultra exciting day on television.  We were graced with the mid-season premiere of Pretty Little Liars – with the intriguing #5YearsForward jump – and the series premiere of Shadowhunters, the new series based on Cassandra Clare's book series The Mortal Instruments. Obviously we are obsessed with both of these fandoms and as the good fangirls we are, we're dedicating an entire week to discussing these thrilling television debuts. Welcome to PLL/Shadowhunters Week on My Fangirl Life!
I've recently realized something or, more accurately, this was recently pointed out to me: I have a serious obsession with forbidden love. There have been a couple of clues pointing to this over the past year:
I love the secrets and lies. I love the thrill and excitement. I love when someone risks everything, and is consumed by the desire, to be with that one person. I love how the characters hopelessly throw themselves all in. I love how these relationships almost always end tragically, and I love the sadness that usually comes in hand with them. I love how we often know it's not going to work out. I love knowing that the odds are not in their  favour, but I still cheer for them. I still cheer and cry on my couch watching their relationships unfold.
Here are some of my favourite forbidden romances. Each one has given me so many feels over the years.
Romeo Montague & Juliet Capulet
This is the most classic example of forbidden love: Romeo & Juliet. These star-crossed lovers were doomed from the beginning. With young love and dueling families, it really is quite a tragic tale. In reality, all of the couples mentioned below should have learned from this example. Being together through secrets and lies is hard. This will always be my favourite Shakespeare play and its formula is something I fall for time and time again.
Bella Swan & Edward Cullen
Oh Bella and Edward. You many remember my tumultuous relationship with Twilight and these two. Edward & Bella are forbidden to be together, at least initially. But I think this story finds its way onto this list because there was nothing that could stop them. Edward tried to stay away from Bella for a short period of time (about 5 chapters) before giving in. And once he was in, he was 100% in. He was going to do everything he possibly could to protect Bella. A number of people tried to keep this vampire and human apart, but in the end love won out.
Meggie Cleary & Ralph de Bricassart
I was named after one of the main characters in The Thorn Birds and as soon as I was old enough, my mom made sure I watched the miniseries. This story is focused on the forbidden relationship between Father Ralph de Bricassart and young Meggie Cleary, who must be 15 years his junior. Everything about that sentence is wrong and yet you can't help but want them to be together and be happy. You want Ralph to give into his desires and be with Meggie. You want them to give into their passion. You'll spend a minimum of 6 of the 8 hours of this miniseries rooting for them, or at least myself and my entire family does. Disc 3 on the beach is everything.
Rose Dewitt Bukater & Jack Dawson
I remember the first time I saw Titanic. I was 10 years old, and I wept in the theatre. I also remember my mom explaining to me beforehand that it was very unlikely both Jack & Rose would survive. Still, my 10 year old self was not ready. Looking back now, obviously Jack was going to die. He was the catalyst for turning Rose into a strong independent woman. It just took an epic love story across social classes on a doomed ocean liner for this change to occur. There will be a post at some point about this, but for now, I'll reminisce and recall all the tears I have shed for Jack & Rose, a tragic love story where nothing and no one was on their side. #OscarforLeo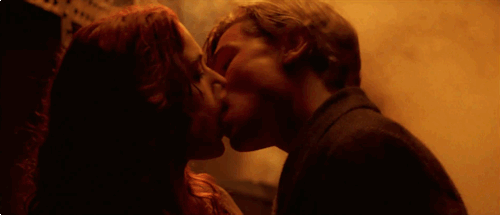 Anne Boleyn & Henry VIII
This is a rare historical example, but it became fiction through The Tudors. Henry VIII wasn't supposed to fall for Anne Boleyn. He was married and divorce was forbidden by the church. But that didn't stop these two. There was desire and secret excursions. There was passion and obsession. Anne and Henry were hot together and wanted to be with each other at every possible moment. Unfortunately, this was probably the happiest time for this doomed couple. As soon as they were free to be together it all went rather downhill. Heads will roll.
Padme Amidala & Anakin Skywalker
Now Anakin & Padme get a lot of hate (largely from Kris & KG) in the Star Wars universe but this relationship is a perfect example of forbidden love. A Jedi is supposed to live without attachment but this young Skywalker did more than just break his oath. He fell in love… obsessive love. Anakin & Padme work. They are young and crazy for each other, and have an intense connection that they believe will fix everything else. There's nothing Anakin wouldn't do for Padme, and I think Padme would have done anything for Anakin (he was just already gone by the time she tried). Unfortunately, this all took a dramatic turn towards the Dark Side and ultimately nothing could save either of them (until Luke appears 20 years later).
Aria Montgomery & Ezra Fitz
From that bathroom makeout in the pilot of Pretty Little Liars I was 100% on board with Ezria. Aria & Ezra are perfect for each other. Possibly even the greatest love story ever told (at least KG & I say so to bug Kris). They just fit together. They have similar interests and are always connected & aware of the other person. They're perfect together. Except for one small thing: she is 16 and he is her teacher. This has resulted in a number of trials and tribulations for a pair that has miraculously survived. While their ending isn't a happy one right now, I am positive these two are end game. Here's hoping this is a forbidden love story where no one dies (fingers crossed)!
Clary Fray & Jace Wayland
From the beginning of City of Bones you know that Jace & Clary are the romantic heroes of the story. There's an instant chemistry between the two of them. Jace opens her eyes to the Shadow World and Clary just can't get enough of both Jace and this new world. Jace is the sexy bad boy with a tortured past and Clary is just an average girl – who happens to be his sister. We see these two struggle to hide their feelings but also give into moments of passion. It's all so angsty. But, lucky for Clace, it just all happens to work out in the end. Their story is no longer one of forbidden love.
What does this say about me?!? Looking at all this I'm not entirely sure what my preferences mean for my love life. Are my relationships destined for tragedy and heartbreak? Do I secretly want a forbidden love?
While these fictional relationships consume me I am well aware that they are just that –  fictional. These aren't real life. A student shouldn't date her teacher and you shouldn't be fooling around with your sibling. But this is fiction, which is meant to be dramatic and these relationships certainly are. I love them and I am rooting for a happy ending amongst all the heartbreak.
Back to my love life. I think I'll settle for something a little less dramatic. Forbidden love doesn't sound like the best idea. Perhaps I'll just keep looking for my Prince Charming instead.
Till next time, thanks for reading.
– Justine Alyssa
Photo sources: Romeo & Juliet, Twilight, The Thorn Birds, Titanic, The Tudors, Star Wars, Pretty Little Liars, The Mortal Instruments